Hong Kong Healthcare Market Research and Consulting Ltd provide services in two major categories, including healthcare market research and public relations services, such as focused group surveys, satisfaction surveys for healthcare workers/patients, usability testing by real users, medical press conferences, health talks, medical forums, interviews of medical professionals, short video shooting of healthcare experts, focus group discussions, etc. for medical services, healthcare products, pharmaceutical companies, etc.
We own professional knowledge of promoting healthcare industry and network, including experienced doctors and nurses, university scholar consultants, healthcare marketing planning experts, etc.
We have developed a unique healthcare network – healthcare groups, clinics, physical examination centers, elderly industry associations, healthcare societies and patients associations , etc.
Our company is also the one and only advertising agent of healthy living magazine "Health Easy (健康の本)" and "Chinese Medicine Living (中醫生活)", providing unique channels to market medical products and services to the healthcare field precisely and effectively.
我們早前榮獲由CorpHub頒發的「香港最優秀企業大獎」,從多間精英企業中脫穎而出,成為年度「最傑出醫療公關及調查企業領袖」,做到我哋公司口號「真醫療,真公關」。
我哋董事Moon Wong 嘅得獎者受訪片段出爐啦。想知道我哋公司有咩優勝之處同未來發展方向?快啲欣賞片段啦。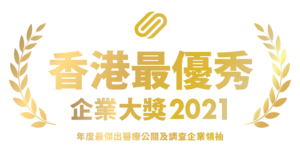 HKMOB AWARDS 2021 – Most Outstanding Healthcare Market Research & Public Relations Services Leader Of The Year
SDG Enterprise Awards 2022/23
The Smartest Business Award 2022